Airliners In Detail #1: the Boeing 727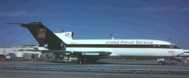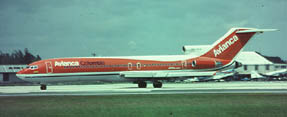 It is hard to imagine what the airports must have looked like before the 727 came along. The 727 became the principal workhorse for many airlines around the world, starting in the 1960s and continuing well into the 1980s. It is only now starting to be superseded by more modern designs.
In its orginal configuration as a 90 to 110 seat short to medium range airliner in the early 1960s, Boeing projected a total production of 300-400 aircraft. Indeed, that is about how many 727-100s were built. When Boeing stretched the design into the 140 to 170-seat 727-200, then added more powerful JT-3D engines, they turned a very good airplane into a great one, which sold over 1,500 examples. The 727 was the most successful airliner program in history until it was superseded by its smaller stablemate, the 737.
The 727 is finally making its long goodbye to passenger service in the United States, but the type still goes strong as a cargo aircraft, and with modernization, may serve for another 20 years or more as freighters.
This obviously isn't a finished product yet, but I wanted to post what I had before I took time off to study for board exams! I would like to thank Mark Cable, Paul Wiegman, Michael Bolden, and Rob Sherry for their assistance on this page. Check back again in late April for more photos and model reviews!
Andy

---
Variant Briefing
Factory-Built Variants:
Aftermarket Variants:
727-100/200 freighter conversions
727-200 Valsan
727-200 FedEx Hushkit
727-100QF (Tay)

---
Reference Photos
Engines (P&W plus aftermarket modifications)
Interior Views

---
Back to the Airliners In Detail Main Page