Airliners In Detail
Boeing 757
Editor: Andrew Abshier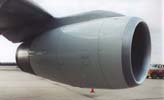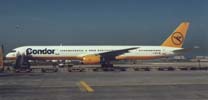 First studies of what would become the replacement for the 727-200 were begun in the mid-1970s. As originally envisioned, the 757 appeared to be a modified 727, retaining the T-tail of the 727, but incorporating a longer fuselage, new wing, and twin wing-mounted engines. In the late 70s Boeing made the decision to make the 757 design more in common with the 767, and from that the classic 757 appearance emerged.
Boeing initially found the 757 to be a hard sell; many airlines were quite satisfied with their 727-200s, many of which were still being delivered as Boeing was coming around to pitch the 757! After a slow start, the type gained acceptance with many of the world's carriers, and the type is used now by all of the U.S. major airlines except Southwest, and in many overseas regions, particularly Europe and South America.
---
Thank-yous....
....to Michael Zwierko, who took most of the landing gear and fuselage detail photos, and also did a nice write-up on nose gear variations. He was very patient with my incessant requests for more photos.
....to Glenn "Andy" Andrus, for not only providing most of the engine photos (so many I didn't post them all here) but also providing some great plan views. He too put up with many requests for photos!
....to Jennings Heilig, for providing the nice side view plans, also not seen here (proprietary stuff--y'all understand, right?) but very helpful in working up my kit review of the Minicraft kit. His company, Airways Graphics International, is just now putting out some great decal sheets for Minicraft's 1/144th scale kit.
....and Al Trendle, president of Minicraft Models, who finally gave us airliner models good reason to care about the finer points of the 757 by just now releasing a fine plastic kit of this aircraft (see the reviews below).

---
Variant Briefing

757-200 (Rolls-Royce RB-211-535C engines)
757-200 (Rolls-Royce RB-211-535E4 engines)
757-200 (Pratt & Whitney PW-2040 engines)
"Three-door" and "Four-door" passenger 757-200s
---
Detail Photo Indexes
Engines
---
Model Reviews
1/200 scale:
1/144th scale:
---
Back to the Airliners In Detail Main Index