The Alpsdecal Mailing List Home Page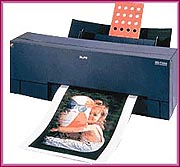 Welcome!
The ALPS Electric Micro-Dry series of printers have revolutionized the scale modeling hobby. For the first time, it is possible for an amateur to produce a nearly-professional quality decal. This was first recognized in the model railroading hobby, and ALPS decal printing has now spread onward to other scale modelers as well.
If you are interested in producing decals using the ALPS printer, we invite you to subscribe to the Alpsdecal list. This is a moderated mailing list that has been in existence since 7 June 1998. To register, click on the "subscribe to the Alpsdecal list" icon, then follow the instructions you'll see on that page.
The mailing list is very new, and we are still in the process of finding out just what are the frequently asked questions about making waterslide decals with the ALPS printer! As we gain more knowlege, we will develop an FAQ that will reside at this site. In the meantime, however, you might get your questions answered in our digest back issues archive; click on the icon below to reach it.
Andrew Abshier, DVM
Alpsdecal mailing list founder and listowner

Click to subscribe to alpsdecal
Click to view archives of alpsdecal
Alpsdecal FAQ and helpful links
Decal Projects underway by Alpsdecal subscribers:
Civil Aviation UPDATED
Civilian Vehicles (Autos, Trucks, and Intermodals)