Lilli and Sushi Photos!
These first two photos were taken in early 1988, when Sushi was just over a year old and Lilli was just months old. I got to work with both of them, and participate in weaning Lilli from bottle feeding to fish. Even then, Lilli was a vocal sea lion. One of my nicknames for her was "The Converter", as in, Lilli converted food into bleats!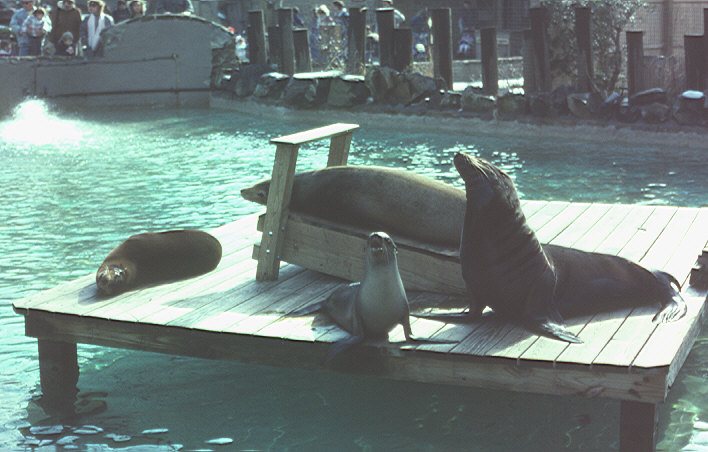 Here's the whole family out on the show dock in the Children's Zoo area of the Philadelphia Zoo. Left to right:
Sushi (born 1987), Molly (mother of both Sushi and Lilli), Lilli (bleating--as usual), and Salty, the father of both Sushi and Lilli. I was trying to get the photo while they were all asleep, but of course Lilli saw me and started bleating, which woke the other sea lions up!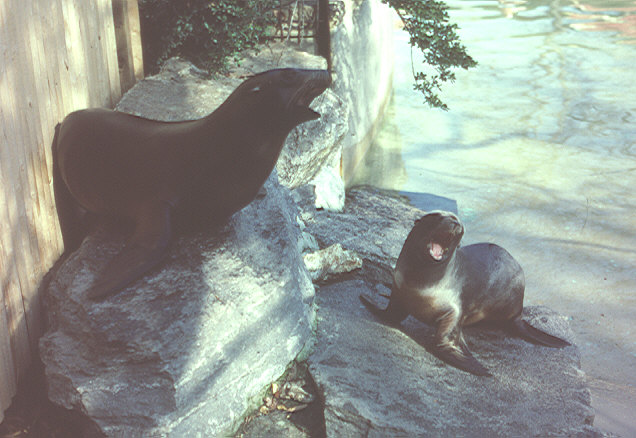 Sushi and Lilli play-fighting. Even at this tender age Lilli was already a brat of sorts! I did get a few bites from her, fortunately none of them serious, but she also was the only sea lion I could actually play with in the water.