Andy and Carol's pets, past and present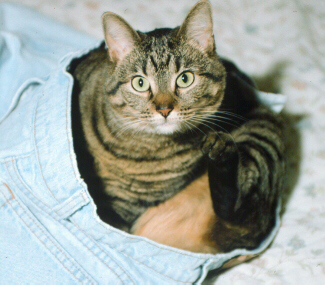 This is Reba, the Cat You Wear. We got her from the Free To Live shelter in Edmond, Oklahoma. She has two moods: lovey-dovey and high-grade lovey-dovey, as Carol puts it! Although we had intended that Reba would be an "only cat", events took place that changed that, as you'll see below.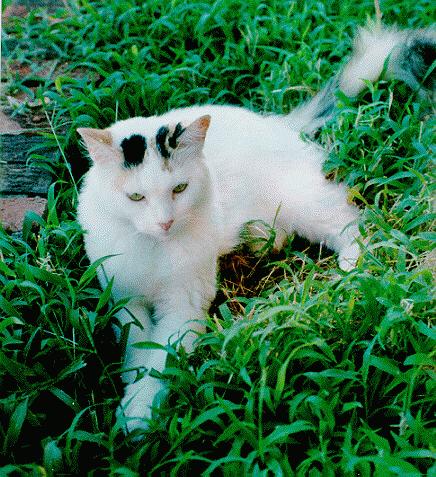 We first saw this cat in our neighborhood, hanging around at a neighbor's house across the street. We at first thought they had taken her in, but last summer she began hanging around our house. Carol, being the soft-hearted person she is, began feeding her....you cat owners out there can probably complete this story. This cat always seemed a bit regal and aloof, so she got the name Princess; we call her "HRH" for short!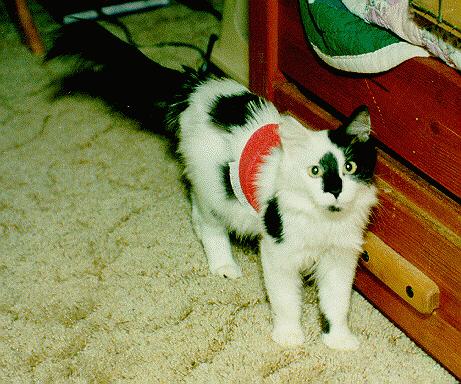 Yes, I'm one to talk about a soft heart. As a veterinary student, I was assigned an injured stray cat as one of my cases. She had a full-thickness laceration on her right thorax (chest area) and possible urinary bladder contusions. I had this kitty for almost three weeks. During this time I brought Carol up to see her; when we came in this cat meowed and began purring before I even laid a hand on her! Yes, I was doing a "sell job" to bring this cat home. It worked. Her name is now Molly, and she has fully recovered from her wounds and has turned into a beautiful cat. I'll put a more recent picture up when I can get it scanned!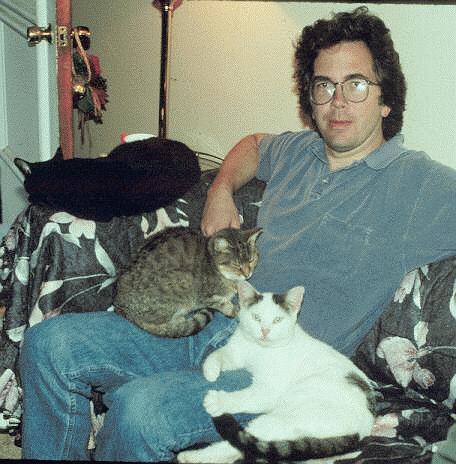 Before we got Reba, Molly, and HRH Princess, we had another three cats. Sadly, two of them died: Manitton (I didn't give her that name!), sitting on my lap, and Lewis, the big white cat. Clark, the black cat, was mine before Carol and I lived together. He didn't mix well with the other two cats so I had to give him up for adoption.

Note my natural animal magnetism. :-)



Back to the main page.